What implications does the looming return of Tulo and the Bringer of Rain have on the playing time of Toronto Blue Jays roster fill ins?
It has been highly documented that Devon Travis is Gibby's guy at second base. For Travis' duration as a Blue Jay I have not questioned his ability to hit and produce as an on-base guy for the big bats, but as the start of the year progresses slowly to the mid-season it is hard not to speculate change. Travis is currently sporting a .195 batting average in 123 at-bats this season.
Last season Travis batted .300 in 410 at bats. He has crept up to 30% of his total at-bats last season. Travis has also had his share of blunders on the bases this year. Getting goated into easy pick-offs and making poor decisions attempting stolen bases.  The flip side to Travis would be to start Ryan Goins at second base once the left side of the infield is injury free. Goins has been getting lots of press and post-game coverage as of late with his timely hitting and excellent in game defense.
Has Goins really been outperforming Travis according to the numbers? As of now, Goins sports a .217 batting average after 92 at-bats. These numbers are not too impressive, they are very ordinary Ryan Goins type numbers at the plate. He has been the benefactor of timely hits that have come in big moments. Unfortunately for Travis, these numbers are better than what he is putting together. As well, Goins has contributed at a higher rate in the RBI category, 13-8, and the OBP category, .277-.231.
Do their splits tell a different story? As of now, Travis does have a pretty wide gap in his batting average against righties and lefties. He has seen a drastic dip in his average when he is facing pitchers throwing from their right hand. It is typical among batters to struggle more against a pitcher of the same handedness. The reason being that the pitcher can typically hide the ball better and the batter has less time to respond to the pitch being tossed their way.
Currently, Travis is batting a depressing .180 when a right-handed batter takes the mound. Goins is mildly better batting .211 against right-handed pitchers. This mild increase is alarming seeing that Goins is a left-handed batter. Where Travis does slightly widen the gap between averages is against left-handed batters where Travis' numbers outshine Goins' .261  to .238.  So a split decision on the two fielders is a possibility for Gibby as a trial for the rest of the season.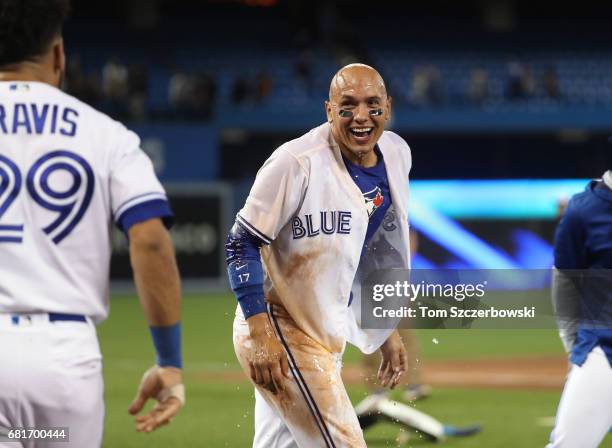 Will irregular playing time affect the mentality or confidence of the players? Players around the league have been quoted saying that regular playing time allows for them to mentally prepare for the game. The irregularity of splitting duties and the downtime a "game off" provides has led to ineffective tuned out players. We tend to see splits work themselves out as one player shows they have the mental fortitude to overcome the pressures of performing when called upon. I do believe this is the case (and fortunately for Travis, who has not dealt with these pressures in his short career) his manager has stuck with him.
Gibby may be rewarded for his patience as things are starting to turn around for Travis as the calendar flips from April to May. In May alone thus far Travis has received 46 at-bats accumulating 14 hits. This equates to a .304 batting average which put him back on track to his career average.
Devon Travis has an MLB-high 10 Doubles in May. #BlueJays record for Doubles in May is 15 by Fred Lewis in 2010. pic.twitter.com/SsD24q7KYE

— Sportsnet Stats (@SNstats) May 16, 2017
He is starting to make contact again pushing the ball to the opposite field and hitting gaps harder. If things regress further to the mean for Travis we will see his splits reverse as he has a career .304 average against right-handed hurlers and a career .285 average against southpaws.
Agree or disagree it looks like Travis will be a mainstay at second base. Call it shaking off the rust or getting over a past plagued by injury Travis has shown that he brings tools to the table that the Jays need to be successful. As the season continues let's keep our fingers crossed that the increase in batting average and on-base percentage continues its upward trend and we soon have two guys atop the batting order that can fill the bases in time for the return of our all-star cast to make its return to the field.
Good news! Both @BringerofRain20 and Tulo are nearing a return to our lineup. https://t.co/1aVDHuvAmf pic.twitter.com/nu9XVBxhon

— Toronto Blue Jays (@BlueJays) May 16, 2017
With the return of our players nearing, we must start the speculation of who will remain with the club and who will be designated for assignment. At this stage, it is clear that veteran utility infielder Chris Coghlan's time in the bigs will be short lived. He just hasn't produced enough offensively hitting a meager .184 with 1 HR and 3 RBI in his 49 at-bats with the Blue Jays. These numbers are just not impressive and will not be enough to supplant Jay's roster mainstay, Darwin Barney. Barney provides consistency with the glove, that Coghlan can't match, as well as the ability to hit for average. At least "Magical Unicorn" will always have the Yadier Molina Leap to cement his memory in Blue Jays history.

*Featured Image Credit: Arturo Pardavila III UNDER CC BY-SA 2.0